The lost chapters of Apple in education from Apple Classrooms of Tomorrow (ACOT) to Challenge Based Learning (CBL)*.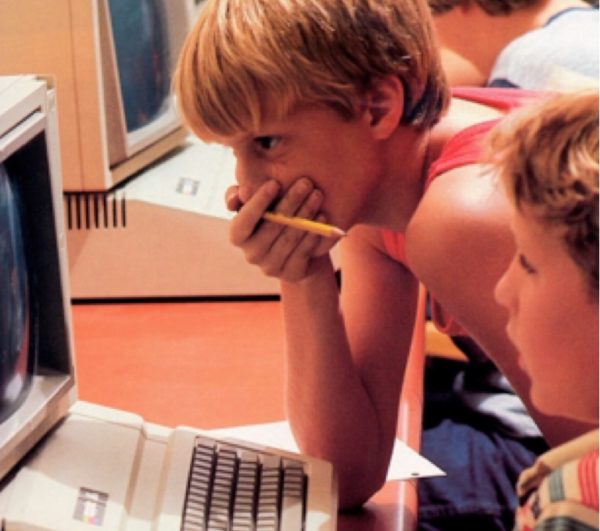 Apple Classrooms of Tomorrow
ACOT was a research and development collaboration among public schools, universities, research agencies, and Apple Computer.
The Apple Classrooms of Tomorrow (ACOT) research provided a significant amount of the foundation for the educational technology revolution. Much of what was uncovered in the studies of ACOT schools was used to develop the domain of eductional technology and was built on by everyone from Intel to ISTE. 
Learn More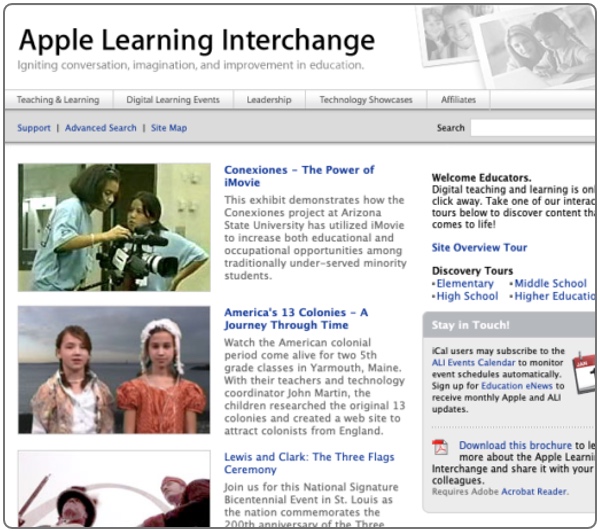 Apple Learning Interchange
From 2000 to 2010 the Apple Learning Interchange (ALI) served as an important resource for educators.
ALI included over 30,000 active members and worked with a variety of affilaites including state technology groups and national organizations. The site was an early example of Open Educational resources and  featured QuickTime™ content, electronic field trips, technology demonstrations and special presentations by education experts.
Learn More
Apple Classrooms of Tomorrow Today
Apple Classrooms of Tomorrow—Today (ACOT2) is a collaborative effort with the education community to identify the essential design principles for the 21st century.
ACOT2 strived to build on the foundation of ACOT by exploring how access to the internet and mobile devices impacted the traditional model of schooing. The goal of  was to help high schools get closer to creating the kind of learning environment this generation of students needs, wants, and expects so they will stay in school.
Challenge Based Learning
Class aptent taciti sociosqu ad litora torquent per conubia nostra, per inceptos
himenaeos. Sed molestie, velit ut eleifend sollicitudin, neque orci tempor nulla, id sagittis nisi ante nec arcu. Fusce porta bibendum convallis. Morbi fringilla sollicitudin scelerisque. In pellentesque
"A people without the knowledge of their past history, origin and culture is like a tree without roots."
Why share this history?
These chapters of Apple in Education are important milestones and should not be forgotten. This is important for a company with eduction in it's DNA and for those people that worked on the projects.
Where does the content come from?
Most of the content on this site is available on sites scattered over the internet. We just aggregated it into one place. Other content came from personal collections. 
Why is this not available through Apple?
I have information and content, how can I share it?
Who are you?
Individuals who care about the history and future of Apple in education.
Are any of these projects still running?
Both ACOT and ACOT2 have been completed and there is no indication that there will be any similar research. Most of the content from ALI was converted into iTunesU resources but this was a shadow of the original program and ideas. CBL continues to be used in schools around the world and can be found at challengebasedlearning.org.
What can Apple learn from a review of this history?
These were watershed moments that positioned Apple as an educational leader. The individuals leading these projects were visionary educators who cared less about marketing and more about teaching and learning.